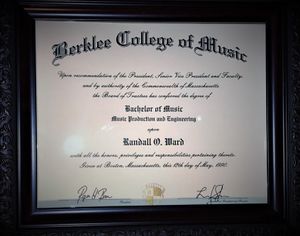 Private Electric Bass Instruction
 Education:
Berklee College of Music, Bachelor of Music - Music Production & Engineering / Bass Performance (1990)
Berklee Online, Specialist Certificate in Music Marketing (2016)

Beginners and Intermediates
Learn to play like your favorite artists!
All Music Styles: Rock, Metal, Funk, Pop, Blues, Jazz, R&B, Hip-Hop, anything!
Customized individual lessons
Reasonable Rates
Ocean/Monmouth County and surrounding areas
Flexible Lesson Times
30+ Years Playing Experience
Studied with Dave LaRue (Dixie Dregs/Steve Morse Band/G3/John Petrucci/Flying Colors),
Charley Sabatino, and with esteemed Berklee College of Music bass professors
Active gigging bassist (Drunken Clams) and audio engineer
Funk/Slap and groove specialist
Theory & Ear Training
4, 5, 6 string or fretless bass instruction
Learn to read music - don't be satisfied with tablature from the internet!

Contact:
Randy Ward
908-627-5693
rward1@alumni.berklee.edu
Ocean County, NJ

SAMPLE BASS PRACTICE ROUTINE: 
Part 1: Warm-Up with a few songs  
Part 2: Technique and Finger Exercises 
     a. Spider 
     b. Dave LaRue exercises 
Part 3: On-line Lessons, i.e. Low-End University,  Scott's Bass Lessons, YouTube tutorials, etc.
Part 4: Theory 
     a. Name the notes on the fretboard 
     b. 2 or 3 Octave Scales 
     c. Four-Part Arpeggios (& Inversions) with chromatic approach 
Part 5: Method Books 
     Mel Bay, Bass Guitar, Jazz Riffs for Bass, Improvising Jazz Bass, Harmonics for Electric Bass, 100 tips for Bass Guitar,
     101 Bass Tips, Berklee Practice Method, etc. 
Part 6: Slapping/Double Thumb - Slap It! & Funk Bass books, 
Part 7: Sight Reading 
     Electric Bass Lines by Carol Kaye, Develop Sight Reading, SoIo Book for Bass Guitar, 
     The Studio Bassist, Chamber Music, BeIwin String Builder, WaIkin', Bass Duets, etc. 
Part 8: Prepared Pieces and Transcriptions 
     a. Bach Cello Suites 
     b. Dixie/Continuum/Joe Frazier/etc. 
     c. Basslines 
Part 9:  Practice Band Songs